Robbins Toyota was founded in 1966.  From that time Robbins Toyota has been committed to the local community, its associates and the Toyota franchise.  Robbins Toyota is currently moving to its third location.

Our brand new Dealership offers our guests state of the art amenities.  These amenities include a three bay exclusive Toyota Express lube, covered service drive, complete wi-fi capability, theater style seating in the Guest lounge, multiple flat screen digital televisions, Cafe lounge, and a dedicated Kids Corner with kid Safe toys and a100% Nickelodeon programming flat screen television.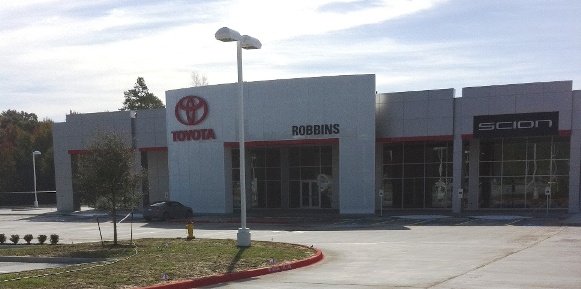 Robbins Toyota is the second oldest Toyota Dealership in the state of Texas, and owes its tenure and success to its loyal customer base.  The recent re-location and upgrade to the most modern facility in Texarkana and the surrounding area, is a reflection of  Eddie Robbins and the entire team of associates commitment to our loyal owners, community, and the Toyota franchise.
Robbins Toyota currently employees thirty-eight team members, providing New car sales, Used car sales, Parts, and Service.
Come visit us at our New location and see why we're known for "Hometown Courtesy and Big City Selection".